Religious School Enrollment
2022 - 2023 Religious School Class Times*
Sundays: K - Grade 6
Early Session: 8:45am-10:45am
Late Session: 11am-1pm
Tuesdays: Grades 8 - 12
Teen Dinner & Community Time: 5:30pm-6pm
Tichon Isaiah: 6pm-8pm

Friendly Visits: 4:30pm-5:30pm @ Temple Isaiah
Friendly Visits: 6pm-8pm @ Minuteman Arc
Wednesdays: Grades 3 - 7
Grades 3 - 5: 4pm-5:30pm
Grades 6 - 7: Pizza 5:30pm-6pm; Class 6pm-7:30pm
* Class offerings are subject to minimum & maximum enrollments. Every effort will be taken to honor your preferences.
The following sessions are closed and have a waiting list:
Please enroll your child for the other open session and send an email to the school office to be placed on the waiting list. We will do our very best to accommodate your request.
All Kindergarten - Grade 6 EARLY Sunday classes are full
(This can NOT be done on a mobile phone and is best completed on a computer or tablet)
We understand that changes or withdrawals can occur.
However, your enrollment enables Temple Isaiah to hire appropriate teaching staff.
1. Review our policies:
COVID-19 Policies Please review the current Temple Isaiah guidelines
Kavod Code (All students & parents)
Cell Phone Policy (All students & parents)
School Withdrawal and Refund Policy (All parents)
LEFTY Code of Conduct (LEFTY students & parents)
LEFTY Health and Safety Authorization Form (LEFTY students & parents)
2. Log into your Temple Isaiah account (if you need assistance, please email the Temple Office or call 781-862-7160.)
3. Please read the rest of these instructions before proceeding. At the bottom of this page you will find the "Click here to begin your enrollment" button. There are 3 different TERMS, one for students enrolling in Mishpacha, another for students enrolling in Kindergarten-Grade 7, and a third including all teen programming for Grades 8-12 (Tichon Isaiah, LEFTY, Madrichim, Moving Traditions & Friendly Visits).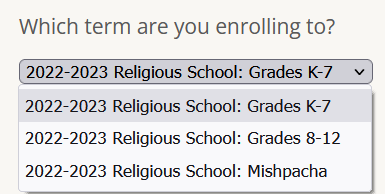 Returning students: For each term you select, you will see the class choices for your child's grade.
New students: please contact Debbie Marty in the school office (Monday - Wednesday, 9am-5pm ; Thursday, 1pm-5pm; Friday, 9am-1pm) for assistance to begin the enrollment process. This includes students who participated in Mishpacha during the 21-22 school year and will be enrolling in weekly Religious School classes for the first time.
4. Follow the prompts. Since some of your information fields will auto fill, please be sure to review carefully and make any necessary corrections. There is a delay between the time that you enroll your child(ren) and when your account is updated to reflect the enrollment. Do not be alarmed when you don't see your selections reflected immediately. Please enroll ALL the children in each age category (Mishpacha, K-7, 8-12) in your family before submitting the form.
5. Complete supplementary forms.
New Student Profile Form (New Students Only)
Email new or updated IEP or 504 plan to Rebecca Winters, K-12 Inclusion Specialist, inclusion@templeisaiah.net (if applicable)
6. Mark your calendar!
First Sunday for Grades K-6: Sunday, September 18th
Welcome Back Event for All Teens: Tuesday, September 20th
First Wednesday for Grade 7: Wednesday, September September 21st
First Tuesday for Grades 8-12 Tichon Isaiah: Tuesday, October 11th
Mon, October 3 2022 8 Tishrei 5783